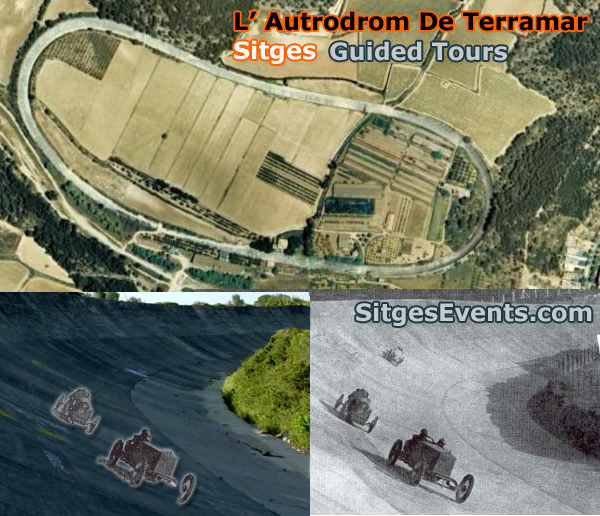 20 MILL TERRAMAR RACETRACK SITE REDEVELOPMENT -HOTELS & EVENTS
The Terramar Automaton is projected as a leisure and entertainment center integrated in the environment and linked to equestrian jumps at the international level, the world of the engine and the promotion of a wide variety of events and presentations.

With an investment of 20 million, the Franco-Spanish business group Grand Prix of sports events wants to recover the equipment to preserve its historical value, enhance the landscape of the site and promote the versatility of activities. For this reason, in the central space, it plans to order a large enclosure with advantage areas that buy the track, multifunctional esplanades in the center, terraces in the north and the spaces for the implantation of four hotels that would be located in the perimeters.
The initiative, which has been working together with the City Council for three years, is based on the parameters of respect and sustainability and aims to restore and preserve the circuit, the Can Sidós farmhouse, the buildings Champions and Palau dels Frares, Grades and boxes below to integrate them into the project. You also want to make a walkway or walk with trees in the central axis that connects the different spaces of the inner esplanade of the enclosure and is conceived globally as a leisure space open to the population, where you can go the head of week to eat or to stroll. In total, it is planned to build 43,000 m2 of roof of the 90,000 m2 of buildings that the General Plan allows, using materials and sustainable construction systems and the reuse of natural resources. The total area of ​​the site is 69 hectares.
During the presentation of the project last week, the mayor of Sant Pere de Ribes, Abigail Garrido, said "with good eyes" the initiative, because "it will bring economic activity, commitment to quality and respect for the environment and puts in value a very important historical heritage piece " . "We like to respect this historical piece, restore it and put it at the center of the activity that will be developed," he added. The Terramar autodrome, one of the first circuits built around the world, dated 1923, is the only automaton of these characteristics that maintains all its original elements intact.
The project director, Vincent Goehrs, considers that the Terramar Automobile "has a potential that goes beyond the activity that it develops, especially for many organizers looking for special and original places. We will have to look for the limits to see what can be done and what can not be done (…) and that it does not generate pollution of any type ". The idea is that the winter months will concentrate the activities most related to the equestrian world and the months with the best time the rest of the activities. Goehrs explained that "we fell in love with the Terramar Autodrome and we saw that it could accommodate and combine both the world of the engine and the equestrian world perfectly, not only in the place but also in the annual calendar . "
In the absence of the town planning procedures that must be approved, the promoters want to put into operation the center of temporary events in 2020. Before, however, it will be necessary to carry out works with a planned duration of fifteen months. In a second phase, the four planned hotels will be built that will have a total of 260 rooms. Of these, two will be four stars (a heritage linked to the building of Can Sidós and a new building), there will be a five star bungalows and the other will be a small boutique hotel. In the year 2022 it could be at full capacity and give work to 120 permanent people and to a set of other temporary ones. The estimated economic impact estimates the costs of studies and construction between 1 and 3 million euros per year for maintenance, security, cleaning and supplies. It is also estimated that it will stop 1 to 3 million euros in hotel nights and more than 10 million in annual tourist expenses. The mayor said that"We celebrate that there is a project with this push and with this international projection as well as the jobs that can be promoted . "
MORE ON THE RACETRACK: http://www.sitges.net/daysout/terramar-racetrack-autodrome-sitges/
http://www.santperederibes.cat/ajuntament/premsa-i-comunicacio/noticies?p_p_id=ASPRNewsPortlet_WAR_sprnewsportlet&p_p_lifecycle=0&p_p_state=normal&p_p_mode=view&p_p_col_id=column-2&p_p_col_pos=1&p_p_col_count=2&_ASPRNewsPortlet_WAR_sprnewsportlet_id=1264181