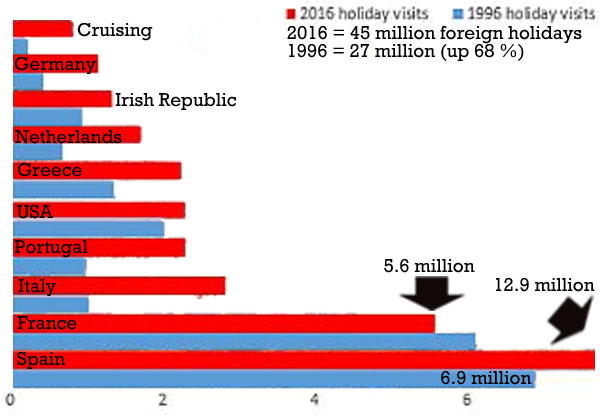 UK's top holiday destination is Spain with 12.9 million trips in 2016 – up from 6.9 million in 1996
British tourists shun France with a drop in visitors during the last 2 decades,
compared to the figure doubling, for Spain
(in line with an almost doubling in those going abroad, compared to 20 years ago)
Around 27 million foreign trips by UK residents in 1996, compared to 45 million, last year (2016).
Trips to North Africa (Egypt, Tunisia and Kenya) have dropped enormously (2,200 from 221,000 with Tunisia), also Turkey lost visitors, whilst those to Croatia and Dubai increase dramatically.
Which may please those against more tourism in Spain, as terrorism is encouraging holidaymakers to try alternative parts of Europe and abroad.
Germany is up, as is Greece, along with Italy, Poland and Croatia
2 week holidays are also being replaced by 10 or 7 days,
according to the Office for National Statistics (ONS).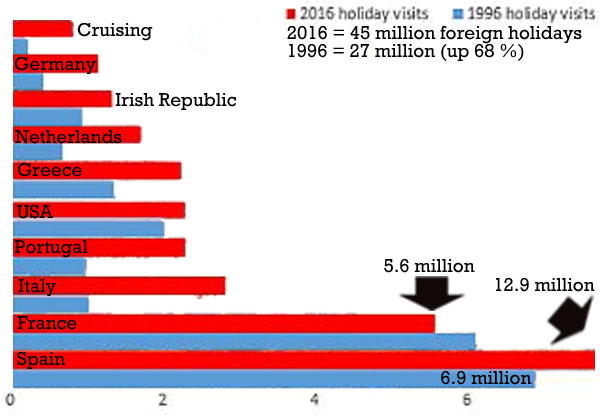 Read more: http://www.dailymail.co.uk/news/article-4767740/British-tourists-shunning-France-flocking-Spain.html